Herbert Fiedler - a painter
between Germany and Holland
He loved Germany, but fled the National Socialists; he was a representational artist, but detested any kind of naturalistically precise daubing: throughout his life Herbert Fiedler fell between all the stools. This and the unfortunate circumstances of his life and the age he lived in prevented him from achieving a real breakthrough in his lifetime.
Herbert Fiedler was born in Leipzig in 1891. While he was studying (at the recommendation of Liebermann and Trübner) at the Royal Academy of Art in Dresden, he got to know George Grosz and shared a flat and studio with him in Berlin in 1912. In 1913, however, Fiedler felt drawn to Paris, which at the time was the metropolis of art. There he lived in the heart of Montmartre, drew at the Académie Colarossi and became acquainted with Jules Pascin, Karl Hofer and many others at the Café du Dôme. The start of the First World War forced him to return to Germany, and he ended up at the Eastern Front, where he was wounded. The young artist spent the Twenties in Berlin. It was a difficult time; Fiedler made the acquaintance of artists such as Max Pechstein and Bertolt Brecht and struggled along with all sorts of jobs. For instance, he spent two years working for the UFA film studios as a set painter and poster designer.
In 1934 he left Germany, and moved (with the Swiss painter Amrey Balsiger, who was later to become his wife) to the Netherlands, where the war caught up with him in 1940. During the pre-war years, which he spent in the artists' village of Laren, he developed his style, which the Dutch critics christened "Baroque Expressionism". He drove himself towards ever greater abstraction, but never lost sight of his subject. In rural Laren, he mainly produced landscapes and portraits. In Amsterdam, where he lived from December 1940 onwards, he spent the Forties and Fifties returning to his Berlin motifs, depicting the city and its people. He had a particular liking for the world of the circus: repeatedly he portrayed clowns, acrobats and trapeze artists. Many of these pictures found their way to enthusiasts and are now dispersed throughout the world in private collections, above all in the Netherlands and probably Germany. In 1962, Herbert Fiedler died of a heart attack while preparations were being made for a major exhibition in the Stedelijk Museum in Amsterdam. His works can be found in various Dutch and German museums (including the Stedelijk Museum, Amsterdam; Berlinische Galerie, Berlin; Singer Museum, Laren; Museum der Bildenden Künste, Leipzig), but Fiedler remains almost unknown to a wider audience.
In 1981, the Herbert Fiedler Project Foundation in Amsterdam was set up with the intention of changing this. It has put on some exhibitions in the Netherlands. In the next one, a section of his works will be on show in the Singer Museum in Laren (2000/2001). The plan is for the exhibition to move on to Germany afterwards. Partners for this stage are still being sought. In addition, work has started on creating an inventory of Fiedler's entire works. This is made more difficult by the fact that the majority of his works are in private ownership. We would be grateful if anyone in a position to give us information with regard to this would get in touch with the Herbert Fiedler Project Foundation.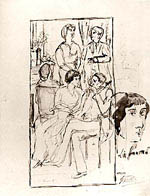 Flechtheim in Conversation, 1913, pen-and-wash drawing, 31 x 24 cm, private collection, Amsterdam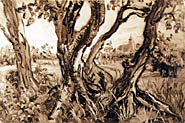 Landscape near Laren (Eemnes), 1947, gouache, 49.4 x 65.1 cm, Collection De Nederlandsche Bank, Amsterdam.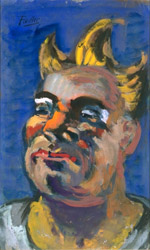 Clown, c. 1955, gouache, 59 x 37 cm, Singer Museum (loan).