Herbert Fiedler (1891-1962)
A Painter's Years of Travel:
Fiedler in Berlin and Paris
The roots of his art are in eastern Germany, in his native town of Leipzig and in Dresden where he attended the Royal Academy of Art. Herbert Fiedler was already drawing and painting at the age of eleven. When he finished school, he studied at the Academy in Dresden. While he made friends with some artists during those years, it was not a very fruitful time in terms of his artistic development. From the start, Fiedler's real school was drawing and painting in the open, and discussions with his student friends including George Grosz. In 1912, he briefly shared a flat and studio in Berlin with the latter. They would roam the capital together, drawing the streets, strollers, citizens and prostitutes in their sketchbooks.
In 1913 Fiedler went to Paris, at the time the Mecca of art. There he made friends with the graphic artist Otto Schoff; together with him and George Grosz, who visited him, they made life drawings in the renowned Académie Colarossi. Throughout his life, nude painting was to remain an important theme for Fiedler; countless pencil studies testify to this fascination and his mastery as a draughtsman. In Paris, as in Berlin, he particularly liked going to the suburbs, recording his impressions of the outskirts "where the city ebbs away, where the gasworks are, and old dilapidated huts, new buildings, allotments, railway workshops. An area which I love, which I also loved when I was young." (Fiedler in his diary, 30 March 1942). Towards the end of his period in Paris, he made friends with the painters Karl Hofer and Jules Pascin and was to have received a grant from the Hamburg ship owner's daughter and sculptress Hedwig Jaenichen-Woermann – with whom he had become acquainted through the Swiss sculptor August Suter. But the First World War broke out at this promising point in his life and he had to return to Germany in a hurry. Fiedler was conscripted and returned to Berlin wounded.
The Twenties were not particularly golden years for Fiedler, and at times he kept his head above water by working for the UFA film studios. At the same time, he took part in the Sezession exhibitions and moved in well-known artistic circles. His style of painting became freer and displayed Expressionist influences: a spontaneous, expressive manner predominates in the café pictures, portraits and nude paintings of this time. Together with the sculptor Kurt Radtke – with whom he travelled to Italy in 1926 – Fiedler developed "stone painting" at the beginning of the Thirties; this was a fresco-like technique that caused a sensation in Berlin and earned him a very positive review from Karl Scheffler. In 1931, Fiedler returned to Paris for several months and met his future wife, the Swiss painter Amrey Balsiger.



Continue

Biography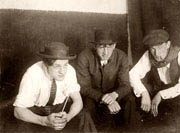 Left to right: George Grosz, Otto Schoff and Herbert Fiedler, c. 1920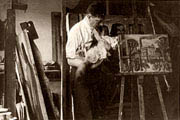 Herbert Fiedler shows a picture to his cat in the Berlin studio, c. 1924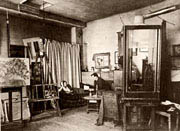 Herbert Fiedler and Amrey Balsiger in Fiedler's studio in the Grolmanstraže in Berlin, c. 1932